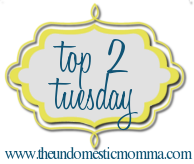 It's time for Top Two Tuesday again! This Tuesday starts the beginning of a new series about what each of us has learned in life...this week, it's...
Top 2 things you've learned about friendship
1. Friends come in all age groups, backgrounds, and walks of life
I have so many different types of friends, and to me, that's the best way to live life! Each one of them offers something different to me, and I hope they feel the same way! Even though my close friends range in age from 24-60, every one of them are VERY special to me!
2. A true friend will drop EVERYTHING for you!
Don't we all know someone who would drop everything, and I mean everything to come to your aide in a time of need. To me, THAT is true friendship. I am very lucky to have some friends like this, and I think they have showed me A LOT about what friendship means. I hope their compassion rubs off on me, and I can be half as good a friend to them as they are to me!