Happy New Year! I hope you all had a great night last night no matter what was on your agenda! I know I certainly did! In honor to ring in the new year in style, I have decided to participate in yet another Blog Challenge. This Challenge is called 11 in 2011 and is hosted by Kit at
A Step into My Life
and MJ from
Teaching in Heels
.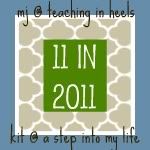 Day 1: New Year Resolutions
This year I have decided to make a lot of Resolutions...I may not keep them all, but I figure if I don't make them, then they can't happen, right? So...here goes:
1. Complete 36 items on my 101 in 1,001 list.
I have been doing a great job so far of staying on top of this list, but I want to keep it up. If I can accomplish 3 items per month, I should be right where I need to be to complete them all by April 27, 2013.
2. Lose 10...maybe 15 pounds and keep it off the remainder of the year. Losing weight isn't really my problem. I seem to be able to diet every winter and usually lose quite a bit of weight. However, the problem is that I have to do this every year at the same time. I guess my Resolution would really be to NOT lose 10-15 pounds in 2012. =)
3. Run in six 5Ks during 2011. Since I just started running, I want to stay motivated to keep it up and also to get better. I know myself and the best way for me to stay motivated is to keep having something to train for. Therefore, if I have a 5K scheduled every other month, I should always have something keeping me out there running!
4. Run/Walk in a Half Marathon this year. After walking in my first half marathon in 2010, I decided that I definitely want to do more of these and improve my time. Therefore, I am planning on running in the Country Music Half Marathon right here in Nashville on April 30, 2011!
5. Simplify my life. I know that a lot of people are like this, but I sometimes feel that I am so busy that I never have time to stop and smell the roses. Well, this year, I definitely want to smell LOTS of roses! =)
6. Be more positive. I used to be really good at this. However, I have noticed in my life that every once in a while I have to remind myself to look at the positive and not the negative in every situation. I really want to work on this in 2011!
What's your New Year Resolutions? Head over to
11 in 2011
and tell us all about them!