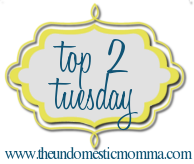 Top 2 Favorite Items from 2010
Well, I have to be honest...I don't think either of my Top 2 were NEW in 2010...however, they were definitely "new to me" in 2010 because that's when I discovered them.
1. Market Totes
I got one of these right before Thanksgiving and I absolutely ADORE it! It doesn't matter if I am going to a tailgate, a party, or to my parent's house for Thanksgiving and Christmas, this thing goes with me everywhere! If you haven't invested in one, or two, or three, you definitely should!
2. Thirty-One Gifts
A girl I work with started selling Thirty-One about 6 months ago and I am officially addicted! I have now purchased for myself a thermal tote, a picnic blanket, a purse, and a zipper pouch...and that doesn't count the endless number of baby gifts and Christmas gifts I purchased for friends and family during 2010!
What are your favorite products from 2010? Head over to
Taylor's blog
and link up!