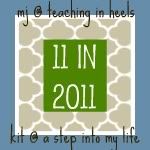 Day 4: Best Leftover Recipe
I have never been a big fan of leftovers...however, when you live alone, and you like to cook, you pretty much have to learn to eat leftovers or you waste a lot of food and money!!!!! I have found that the 2 types of food that make for good leftovers are casseroles and soups. Therefore, I thought I'd share a recipe of each.
Quick Mexican Pasta
Cook pasta according to package directions and drain. Mix Chili Magic and tomatoes and stir to mix. Cook over medium heat about 10 minutes to allow flavor to blend. Stir in pasta and cook for a couple of minutes to heat pasta through. Stir in sour cream and cook an additional 2 minutes.
Tortellini Soup
1/4 cup fresh red onion, 1/8-in slices
1/8 tsp fresh basil, crushed
5 cans chicken broth (10-1/2 oz each)
9 oz. cheese filled tortellini
Saute garlic, onions, and basil in butter until tender. Add pepper. Add chicken broth; bring to a boil. Add tortellini, tomatoes, and zucchini; reduce heat & simmer until tortellini is firm.
Can you tell I like pasta? =)