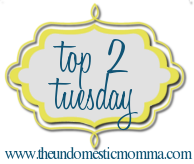 I am so excited about this week's Top Two Tuesday! Since I'm trying to eat healthier (like a lot of people this time of year), I can't wait to see what everyone has suggested!
Top 2 Healthy Recipes and Snacks!
Ingredients:
1 box Angel Food Cake Mix
1 20-oz. can crushed pineapple in pineapple juice (NOT Syrup!!!!!)
Mix ingredients together and fill cupcake pans 2/3 full. Bake according to directions on Angel Food box. Some people like to top with Cool Whip, but I think they are so good, they don't need anything!
These cupcakes are delicious! AND, they are only 1 point on Weight Watchers PointPlus! That's my kinda dessert!
2. Italian Chicken Pasta Toss
Ingredients:
6-oz. uncooked bow tie pasta (about 3 cups)
2 plum tomatoes, seeded and diced
1 small onion, chopped
1 medium zucchini, sliced
1 small yellow or red bell pepper, cut into thin strips
1/2 pound boneless, skinless chicken breasts, cut int 1-inch strips
2 teaspoons olive oil
2 large garlic cloves, pressed
1/2 cup frozen peas
1 teaspoon Italian Seasoning
1 teaspoon salt
1-oz. (1/4 cup) grated fresh Parmesan cheese (optional)
Cook pasta according to package directions; drain and keep warm.
Meanwhile, dice tomatoes and chop onion. Slice zucchni. Cut bell pepper into thin strips and chicken crosswise into 1-in. strips.
Heat oil over medium-high heat until hot. Press garlic into skillet. Add chicken. Stir-fry 5 minutes or until chicken is no longer pink. Reduce heat to medium. Add onion, zucchini, bell pepper, peas, seasoning mix and salt; stir-fry 2 minutes. Add tomatoes; heat 1-2 minutes, stirring gently until heated through. Remove from heat.
Stir in warm pasta. Grate Parmesan cheese; sprinkle over pasta. Serve immediately.
I found this recipe in one of my Pampered Chef cookbooks, and it is delicious! You would never believe that it's healthy!
What are some of your favorite healthy snacks/recipes? Head over to
The Undomestic Momma
and let us know!