Oh, I feel like I haven't blogged in forever! I wasn't sure I'd have time to blog my Top Two Tuesday this week, but I am soooo glad I did because I am so excited about this week's topic: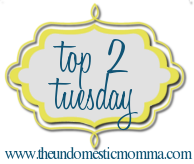 Top 2 Outfits You're Loving for Spring
1. Trench Coat from The Limited
I have always wanted a trench coat, but we just don't get enough rain here in Middle TN to justify it. Oh, well, at least I can dream, right?
2. Dress from The Limited
Since The Limited is my absolute favorite store, I thought I definitely had to include this adorable dress! Doesn't it make you want to head to a warmer climate right this minute?
Head over to
Taylor's blog
and tell me what your favorite spring outfits are!