So, it seems that this Random Thought Thursday thing is getting to be a regular occurance...even though most of my posts are "planned," this one really hasn't been. I guess by the time Thursday comes around, I have a hard time organizing any other thoughts besides "random" ones. =) Anywho, several things to catch you up on today:
1. I am participating in my very first Blog Swap! The 2 Brain Children of
Sandy a la Mode
and
Much Love, Illy
have decided to host this awesome swap: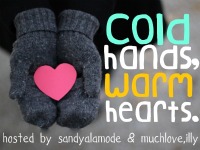 If you would like to head on over to one of their blogs and sign up, the more the merrier! It should be a great time!
2.
This lady
(who happens to be a friend of mine), is hosting her very first giveaway. Head over to her blog and sign up to win! I mean, who WOULDN'T want to win a $30 gift card to CSN?
3. I had the best dinner tonight! Thanks to
Caroline
for posting the recipe on her blog earlier today. I thought I might pass the recipe on to my readers, since it was so delicious!
Ravioli & Vegatable Soup

Ingredients

1 Tbsp. Extra-Virgin Olive Oil
2 Cups Frozen Bell Pepper and Onion Mix, thawed and diced
2 Cloves Garlic, minced
1/4 tsp Crushed Red Pepper, or to taste (optional)
1 28-oz Can Crushed Tomatoes, preferably fire-roasted
1 15-oz Can Vegetable Broth or Reduced-Sodium Chicken Broth
1 1/2 Cups Hot Water
1 tsp Drive Basil or Marjoram
1 6-9 oz Package Fresh or Frozen Cheese (or Meat) Ravioli
2 Cups Diced Zucchini (about 2 medium)
Freshly Ground Pepper to taste
Heat oil in a large saucepan or Dutch oven over medium heat. Add pepper-onion mix, garlic and crushed red pepper and cook, stirring, for 1 minute.
Mixture should look like this...
Add tomatoes, broth, water and basil; bring to a rolling boil over high heat. Add ravioli and cook for 3 minutes less than the package directions. Add zucchini; return to a boil. Cook until the zucchini is crisp-tender, about 3 minutes. Season with pepper.
Finished Product!
This dish, really was delicious! Here are a couple of tips:
I cooked the pepper-onion mixture for a couple minutes longer than the recipe stated. I really like to make sure onions are really cooked well before I continue on with the recipe.

I use minced garlic that you buy in a jar in the produce section at the grocery store. That stuff is amazing! It keeps you from having to waste your time pressing garlic cloves and it's not nearly as messy.

I wasn't able to find any fire-roasted tomatoes, so I used regular ones. They were still good, though!
I think that's about all! It was so freakin' good! I can't wait to have leftovers for lunch tomorrow!
Well, I think that's it for me! I'll see you all tomorrow when I'm back for Fill in the Blank Friday! Good night!