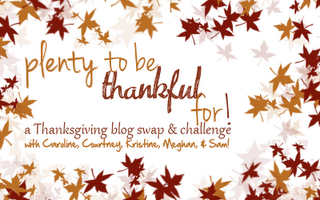 Since I missed a couple of days last week due to being a little under the weather, I thought I'd do some catching up today.
The Blogoverse --
I am so thankful to have become a blogger...It has allowed me the perfect outlet to express my feelings, and more than anything, it has given me a daily journal that I hope to have for many years to come. The Blogoverse has also allowed me to find all of these fabulous blogs:
Happily Ever Faster
Fitting Into the Windy City...and My Clothes
Michabella at Living a Life of Love
Nothing Rhymes with Rachel
The Sweet Life
analyze this
Hello! Happiness
Justin & Marcie Morris
Kelso Thoughts
Lovin' My Life
Simply Smithwick
The 21st Century --
Oh, geez, where to begin with this one...I think there are so many pieces of technology that we can be thankful for, but the top of my list right now is my brand new iPhone. I seriously don't know what I have done without one for so long...All I can say is that it is by far the coolest piece of technology I own, and I am so glad I got it!
;
My Favorite Thanksgiving Recipe --
Several years ago, I decided to try to follow in my Grandmother's footsteps and make a homemade pumpkin pie for Thanksgiving dinner. Well, after that one meal, it has become an essential addition every single year! Here is the EASY, EASY recipe:
Whisk together a 15 oz. can pumpkin, 2/3 cup light brown sugar, 2/3 cup heavy cream, 1/3 cup milk, 2 eggs, 1/4 cup sugar, 1 tsp. vanilla, 1 Tbs. pumpkin pie spice, an 1/4 tsp. salt. Bake in a 9 in. refrigerated pie crust at 375 degrees for 55 minutes. Sprinkle hot pie with 3 chopped milk chocolate-butter toffee bars (such as Skor or Heath; let cool and serve.
Have you been linking up with the Plenty to be THANKful For posts? If not, it's never too late to start!