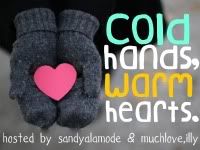 As I mentioned in
this post
, I participated in a blog swap that
much love, illy
and
Sandy a la Mode
hosted. It was so much fun! My partner was
Anna
, and not long after receiving info on each other, she reached out to me and asked exactly what I would like to receive...SO SWEET! She must have done even more research because she did a great job. On December 2, I received the following package at my office:
I love the pink duct tape. =)
I quickly ripped the package opened, but Anna had wrapped it up really well! She also went to a LOT of trouble to wrap everything up so nicely in pink cloth, but I was in such a hurry that I forgot to take a picture! =(
When I upwrapped all of the packaging, this is what i found:
She definitely did some research into what I like because as I've said before, I love games! I also have really been wanting some mittens that turn into gloves and she got me both! AND...the gloves are pink! How much better can it get?
Thanks Anna for my fabulous gift! Head on over to her blog to check out what I got her! Also, thanks to Sandy and Illy for sponsoring this fun swap! Merry Christmas to all 3 of you!