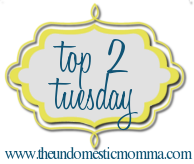 Top Two Things You Collect
1. Stuffed Animals
-- Yes, I frequently ask myself if I have been replaced with an 8 year old girl because I LOVE stuffed animals. Every time I go on a trip, I HAVE to buy a souviner stuffed animal. My beau has even caught on to my addiction (even though I'm sure he thinks it's silly) becuase he has started buying me stuffed animals when HE goes on trips...for instance, I have an elephant from Mardi Gras and a lamb from New Zealand. Love it! What are my favorites? Well that would have to be either the ET stuffed animal that I got at Universal Studios or the Clydesdale that Patrick bought me when we visited St. Louis.
2. Pencils from the Target $1 Spot
-- I always use pencils at work, and a few years ago, I decided to start buying the fun, cute ones in the Dollar Spot at Target. I love having a little personality in my writing untensils.
What do you collect? Head over to
The Undomestic Momma
and let us know!